Let's chat about jackfruit. Are you a fan? Not quite sure what in the world jackfruit is? Well, jackfruit makes a wonderful vegan 'meat like' replacement.
The jackfruit has a texture that is similar to pulled pork when it is cooked. It shreds just like pork would. I will admit that the first time that I made this recipe, I was a little scared because the texture looks just like pulled pork!
I think you could try and serve this to an omnivore crowd and they might not be able to detect that it isn't actually pork. You can find canned jackfruit at any Asian international grocery store or online. You want to make sure that you get young green jackfruit in brine or water. Be careful not to purchase jackfruit that has been canned in a syrup.
This recipe is simple and easy to make because the slow cooker does most of the work. Before the jackfruit gets added to the slow cooker, a simple BBQ rub is added to the jackfruit. This adds so much flavor that just cooking the jackfruit in bbq sauce.
Once the jackfruit is coating in the rub, it is added to the slow cooker. Use your favorite vegan-friendly bbq sauce to the jackfruit. The BBQ Jackfruit will cook on low for 5 hours.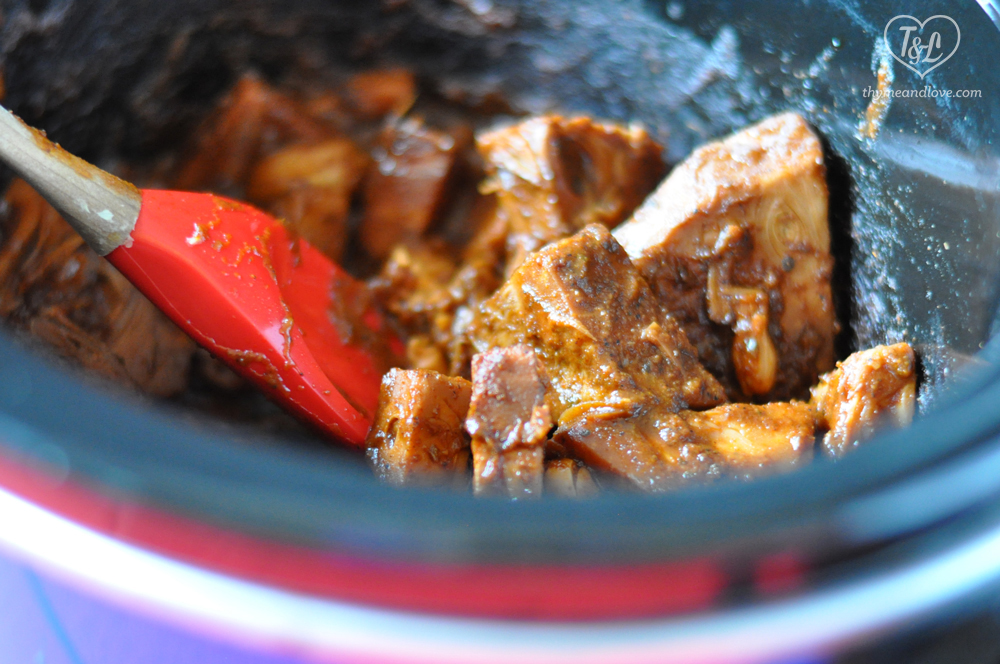 After the BBQ Jackfruit has cooked for about 5 hours, it is time to shred the jackfruit. It should come apart very easily with a fork. Let it cook on low for another hour. Just look at that texture! It looks so much like pulled pork!
I like to serve the BBQ Jackfruit over baked sweet potatoes. If you aren't a big fan of sweet potatoes, you can always serve the jackfruit in a bun for sandwiches. I like to bake the sweet potatoes after I shred the jackfruit so both the potatoes and jackfruit will be ready at the same time.
I served mine with a simple avocado crema, but that is totally optional. To make it even easier, just dice up a avocado to go on top!
This Slow Cooker BBQ Jackfruit Stuffed Sweet Potatoes with Avocado Crema is a satisfying plant-based entree that your whole family will enjoy. Full of flavor and it has that pulled pork texture that I think will even fool an omnivore.
I hope you enjoy this Slow Cooker BBQ Jackfruit Stuffed Sweet Potatoes as much as me! Be sure tag us #thymeandlove on Instagram so we can see your beautiful creations!